Electrolysis for PCOS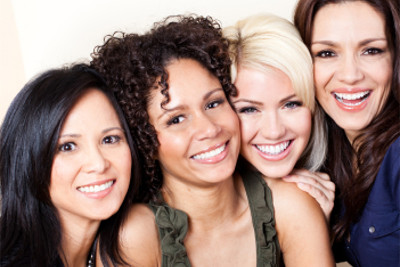 PCOS is a common female endocrine disorder affecting as many as 5 million women in the U.S. It is a hormonal imbalance and a health problem that can affect a women's appearance, menstrual cycle, hormones and ability to have children.
If you feel that excess facial or body hair resulting from PCOS is concealing your beauty, there is a way to get the hair-free look you deserve. Electrolysis - safe, permanent hair removal. Without question, you will love the feminine, healthy look you can achieve with permanent hair removal.
Common Questions About Electrolysis For PCOS
I have a lot of facial hair. I thought I was the only one, but now I am beginning to wonder - are there others like me?
There are many of us with unwanted hair. In fact, most likely, your electrologist has spent many hours receiving electrolysis treatments. His/her compassion comes from walking in your shoes. I believe there are more of us with unwanted hair than without!
Every doctor I have seen tells me to "just lose some weight" and my periods will become normal. As hard as I try, I just can't seem to lose weight. Plus I have all this hair all over my face and breasts and belly, so I have trouble changing at the gym. What is wrong?
An endocrinologist (hormone specialist) may be the person to help you. When women are overweight, have trouble losing weight, have irregular or no periods, and hair in the male pattern area (which you have described), they should be evaluated by a specialist. These are classic signs of Polycystic Ovary Syndrome (PCOS).
Again, electrologists cannot diagnose, but we can recognize what is not normal. If you do have PCOS, we can permanently remove the unwanted facial and body hair.
What is the treatment for Polycystic Ovary Syndrome (PCOS)?
Treatment depends on the symptoms.
If weight is an issue, the most successful eating pattern is following a diabetic healthy eating plan. When choosing carbs, make sure they are complex carbs that don't raise your blood sugar.
If you develop unwanted hair, electrolysis will get rid of the unwanted hair permanently.
To address the medical issues, sometimes medications are prescribed by your physician.
What medications cause hair growth?
Many medications can cause hair growth or hair loss. Talk with your pharmacist about each medication you are on and also how your medications interact.
Where can I get more information about electrolysis?
To speak to an electrologist or to schedule a free consultation, contact us. Answers to general questions about electrolysis are available on the Electrolysis FAQ page.
The information above is provided courtesy of American Electrology Association.